Written by Brookelynn Rogers
The Thing About The Pink Ladies Is …
… all five are bright, outspoken, and determined young women in their mid twenties. Each bringing something truly unique to the stage. In the words of Alicia Barban, who plays Rizzo:

The Pink Ladies represent a group of women who defy the social norms of the 1950's. I believe they formed almost as a responding counter gang to the T-Birds, and like their male companions, are sort of a rag tag group of unique individuals. They bond as a collection of misfits who smoke and drink and hangout with the boys, constantly giving each other a hard time. Myself, Emma Rudy (Marty), Michelle Bouey (Frenchy), and Aisha Jarvis (Jan), being cast as this group of friends, have developed a similar bond off stage. As adults, we don't have the same hierarchy that exists in a high school clique, but we love to spend time together. Just like the Pink Ladies, we all have specific energies, senses of style and personalities that somehow mesh together to create a true bond. I think we can all recognize how lucky we are to have a lot more freedoms than young women in the 1950s. Playing these iconic characters, we hope that modern audiences relate just as much as we do.
As individuals, these women live completely different lives. But despite geography, varying approaches to prepping for their roles, and the different paths that have led them here, each lady I had the pleasure of speaking with demonstrates an unwavering will to succeed, and a gratitude for being able to tell their story. Interviewed below are:
Sarah Daniels

SANDY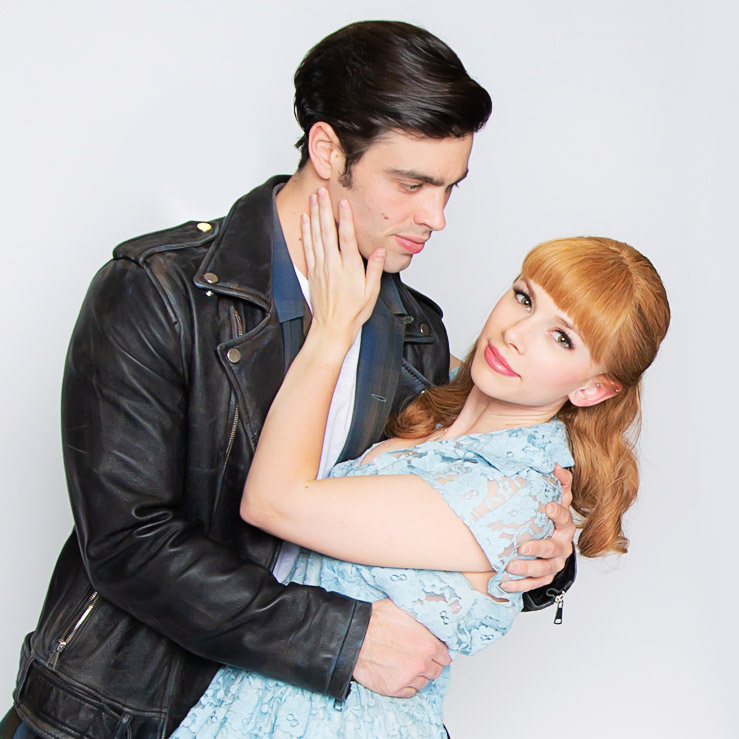 If life was one big game, Sarah Daniels might just be winning.
Grease's Sandy alternate, now taking on the role for the final week, is a brilliant actress, a creative from New York, and a huge gamer. Sarah hosts a gaming show online 6 days a week (Sundays are for cooking or building computers… casual). She streams on a website called Twitch to thousands of followers looking to gain gamer wisdom. When she's not pushing play on virtual reality, she can be found here, at The Winter Garden Theatre, anticipating her moment to come on stage as Sandy in Grease the Musical.
For anyone who isn't seasoned on what an alternate actually is or what the process of being one is like, Sarah fills us in:
"I get the call that I am going to stay in Toronto and be a part of Grease…as an alternate to Sandy. I'm feeling nervous. The pressure is on not only to perform well, because Grease is such a big production, but I am having to fill in for Janel, a celebrity." As an alternate Sarah has to create her version of Sandy from the sidelines. She doesn't have the opportunity to practice on stage with the cast, but rather to watch from the audience and memorize the steps, songs, and lines, from an outsider's perspective. "I am here every single show, no matter what. I could go on at any point… if its mid-show it would be my job to tie the threads together of the Sandy Janel has crafted. It is tough. You're like Sarah Daniels, as Janel Parrish, as Sandy." It's not as glamorous as one may think. When I catch Sarah to interview her, she is binging the Netflix series Riverdale. And yet, she is positive that if she should get the call to go on, she could be ready in seconds. This is the reality of an alternate: it's a waiting game.
When she's not gaming, or waiting to perform as Sandy, she can be found with her fellow cast mates in the early hours of the morning somewhere in downtown Toronto talking about what it means to be human. She believes Grease is about discovery, and that this is a cast that has pushed her to constantly open up to vulnerabilities and to find herself. Whether this manifests in her recently cutting off her long locks, taking off her fake eyelashes—which she wore for nearly two years everyday—or deciding unapologetically to be the best version of herself on and off stage, the evidence is clear: an alternate or not, Sarah Daniels came to play.
Alicia Barban

RIZZO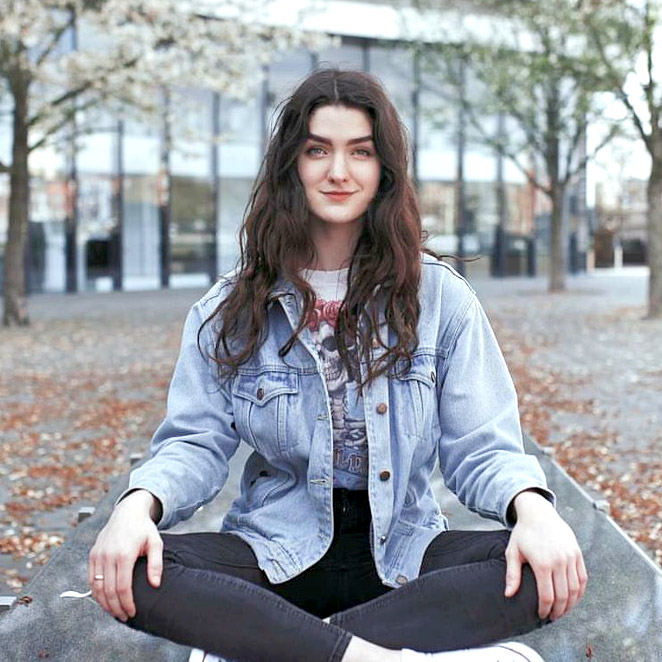 "There is more to Rizzo than you may think. She is a three-dimensional character. There are a lot of layers to her and it's my job as an actress to unpack them."
'Rizzo' from Grease the Musical is a character that undoubtedly carries around some fairly heavy baggage. Alicia Barban, who plays Rizzo, is a determined actress, prepared to unpack all of it for us.
"A dirty sense of humor. Hanging out with the boys. Getting in trouble for voicing an unpopular opinion." These are a few attributes that Alicia uses to describe her connection to the character of Rizzo. But her investigation into a new character or role stretches much farther than simple connections:
"I like to do my research…Rizzo has lived a very hard life. She's an 18-year-old kid who has a great love for this family she's created for herself [the T-Birds and Pink Ladies]. I try to dive into what it would be like for Rizzo growing up. It was the 40's. I imagine Rizzo's dad would have been absent; perhaps he was in the war or suffering from PTSD as a result of that. Growing up in the ghetto, I think Rizzo had to be a tough kid. All of these things are factors that contribute to who she is and why."
Alicia herself grew up with diplomats for parents. She was shuffled to different countries all around the world from Australia to South Africa to Canada, and she found herself having to learn new roles everywhere she went. For Alicia, Rizzo, is her biggest role yet: "This is an iconic character," she tells me, "I have to nail it." A big part of 'nailing it' seems to be creating a space inside Rizzo's psyche to dive into each time she's on stage.
And who is Alicia when she's off stage?
"Definitely an optimist, very silly and a BIG crier." There are worst things she could do, right?
Emma Rudy

MARTY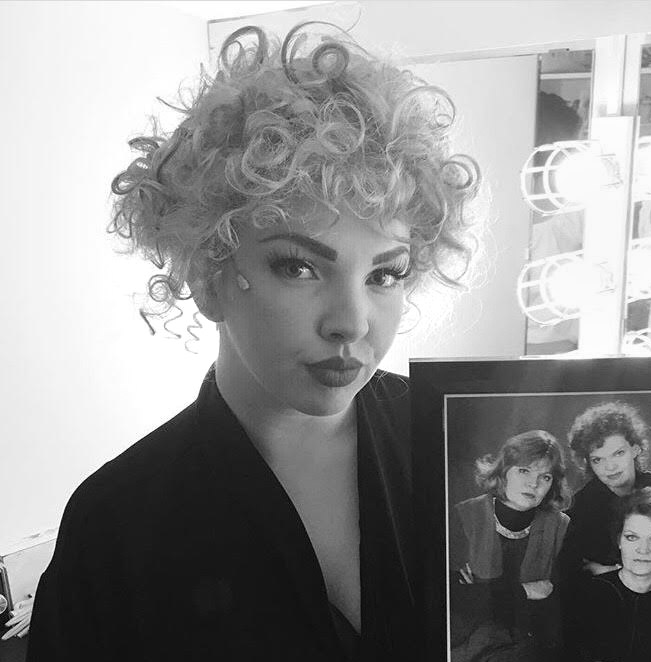 "Excited! Amazing! Busy! All good things." This is the response Emma Rudy gave to the question "what's one word to describe your life right now?" This is also the response that paints the best picture of my entire interview with Emma. There's a lot happening, and there's no shortage of feelings pouring out of her. 
As a "23 year old fresh out of college" with stars in her eyes, landing the role of Marty in Grease the Musical is an absolute dream. In fact, when the date rolled past where Emma thought she would be getting a phone call to say she got the part, she had to do some heavy shrugging of the shoulders to move on. It wasn't until after working a 'Mommy and Me' class for Orangedot (she's not actually a mum but she sings to them and their babies), that her phone lit up with her agent's name and a conversation followed that left her in absolute bliss: "I started bawling. I was just so excited. I love the show, this is my dream theatre…I had two hours of commuting before getting home and I was just in tears…you have a feeling that it finally paid off [what you've been working for], and it's amazing. What a great feeling."
I ask Emma what it's like being a fresh face on the theatre scene in Toronto. How confident did she feel walking into rehearsal after getting that phone call? She responds by explaining to me what 'imposter syndrome' is: "Did they actually want me? Or did they pick me by accident? You always think that. What if I just never ever book another show?" Then I ask how she can alleviate this feeling: "For myself I need to make sure that I'm just the most prepared for literally anything…Both my parents are actors. My whole family is in theatre, so I had been raised around it. I had a bit of an idea of what it would be like, but had never been a part of something this big…I can say, 'I'm new to this. What do I do?' And there's always someone from the cast willing to help." 
And if asking for help doesn't ease the symptoms of imposter syndrome, then remembering her trust in the Universe just might, "I leave a lot of things up to what's meant to be. I'm a big believer in the Universe. If the Universe says I am supposed to have this, then that's that. I don't believe in coincidence. This show is happening at a perfect time. It's not an accident. I'm meant to be here."
Janel Parrish

SANDY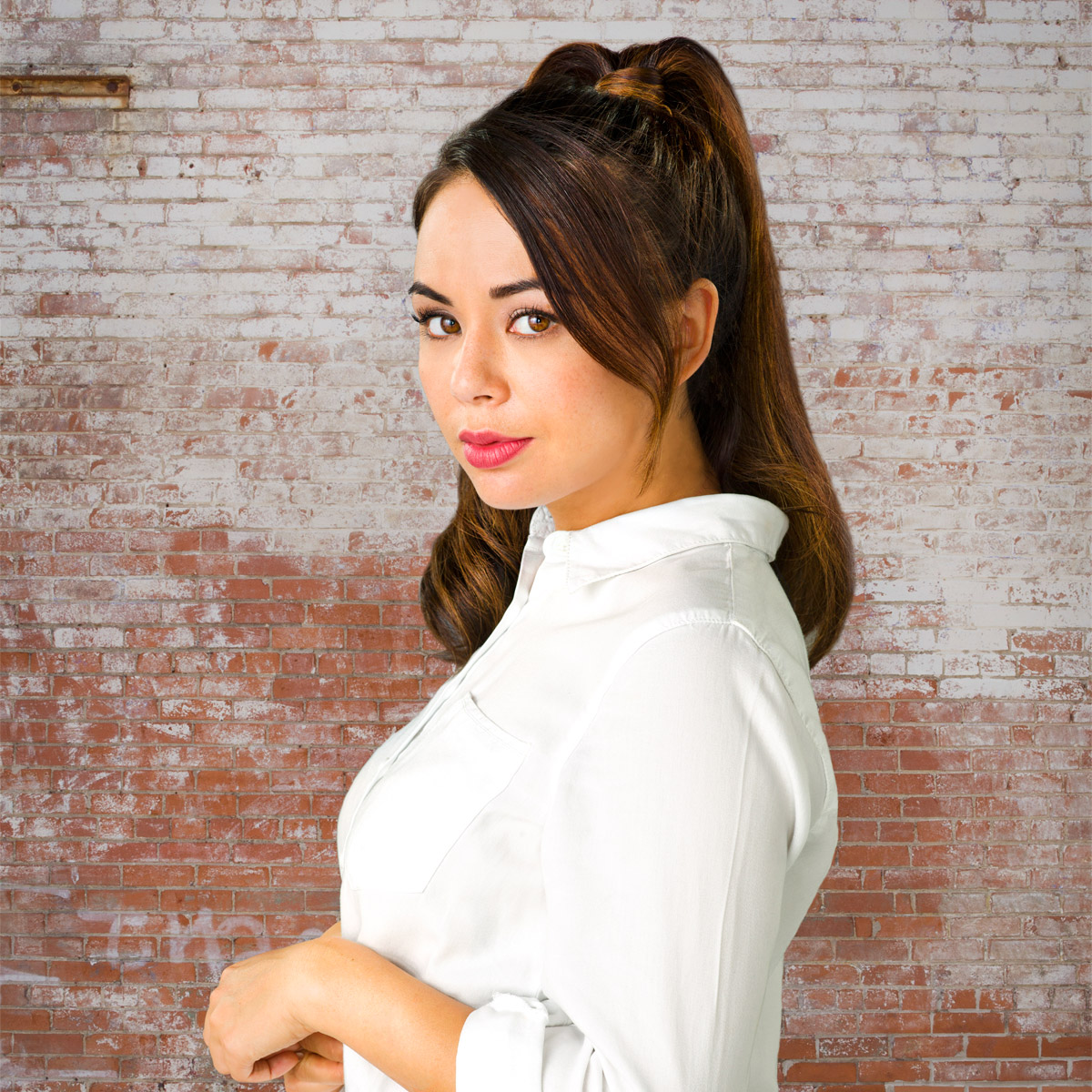 "I have to be away from my family which is really difficult. I actually Facetime my dog almost everyday. Her daddy, [my fiancé], is looking after her. He'll come down from LA to see the shows a lot. So in that way it's good, but of course, being away from my family is hard." 
Janel Parrish is performing 8 shows a week in The Elgin and Winter Garden Theatre as 'Sandy' in Grease the Musical. From a "nerve wracking" opening show, to the now "exciting" feeling she gets before the lights come on, Janel has come a long way with Grease since November 2017.
As an audience we pile into a theatre to watch a performance, and very rarely do we think about all the prepping and preparation for the actual actor behind the character we see on stage. The reality is, sometimes actors have to be away from the comfort of their own homes, for months on end. There is choreography being "drilled" into them, and pressure to "take care of yourself as much as possible." This includes cutting out things like your favourite "glass of wine" on the weekend, "getting a good nights sleep, every night," and "drinking A LOT of water." 
Luckily for Janel (and us), she feels like she's "been preparing for the role of Sandy [her] entire life." So all of that effort and sacrifice definitely seems worth it. 
Janel's favourite part in Grease the Musical, is "Goodbye to Sandra Dee." This is because "Sandy decides to just come out and be who she wants to be, without being afraid." 
Janel has 5.3 million followers on Instagram, and as some of us know, even having 100 or 200 people seeing our content can cause us to have self-doubts or worry about how we are being seen. On top of this, Janel was a part of ABC's hit show Pretty Little Liars, and now, The Perfectionists, and the starring role as Sandy in Grease. 
So how does Janel feel about "coming out and being seen for who she is?" Is she afraid?
"I try to live my life as if it were 5 followers and not 5.3 [million]. I have had a lot of people throughout the years try to filter my content and tell me what I should share and shouldn't. If it makes me happy to be a certain way with my friends or family then I want to share that part of my life…Of course sometimes I like privacy as much as anyone else. It can be awkward in moments, when you're sitting in the doctor's office without make up on and you feel really uncomfortable, and people are sometimes taking pictures of you without being asked. And you don't want that. I mean… you're a person."
Despite the fact Janel has "always loved Grease," I ask her what it looks like Saturday night after her seventh show of the week. Is she leaving Sandy on stage as she goes home to rest? " Yes. I leave Sandy on stage. I go home and eat really bad food—usually pizza—and I actually just won't talk for an hour. It's just nice to lose myself in another world for a while, and then I can wake up and feel energized the next day and be ready to perform."
Janel may leave Sandy on stage but there are some parallels that can be drawn between the lives of Sandy and Janel—out of character,"[my finance] was the cool guy, the leader of his group. But with a super sweet, amazing soft side. I'd definitely say he could be a Danny." If you're a follower of Janel then you know she is counting down to her September wedding. It seems she will be taking Danny Zuko with her for more than just a summer of lovin.'